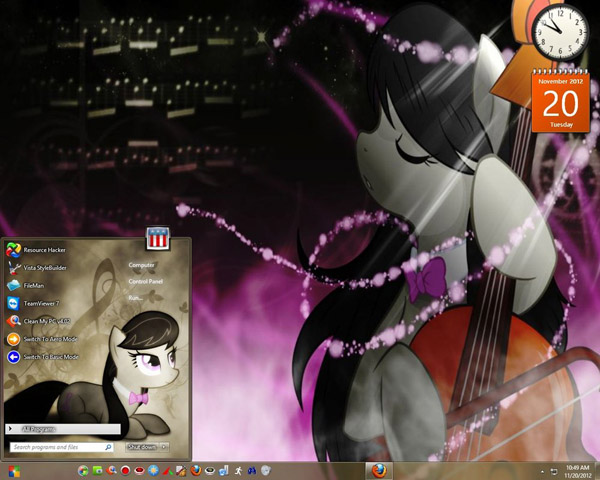 Tag: Octavia


Win7 Octavia Theme
size: 5.2 mb
Author: KeybrdCowboy
Author's Notes:
I updated the Snd Wav Size And Wallpaper Size of files
Added The Slide Show To The Octavia.theme And Added The Start Orb
This Install is 11 times smaller than the Original Install


You Have The Option To Use The Install Theme.vbs Or Not

The "Install Theme.vbs" moves the Files From Wherever They are On Your Computer To The Proper Location
It also Opens Octavia.theme To Make The Theme The Current Theme
and it Renames The Start Orb Folder To Explorer.exe


If you do not like to use installs you have the Option to Install By Hand.

This is an example of using .vbs script to Install an extracted .rar theme from anywhere


I like the challenge of trying to do something different.
This download lets you use the install or the option to add the files by hand.
It's a good example of .vbs script ... Should you opt to use it.

Nowadays... .exe and .vbs files are not allowed to be uploaded to deviantart.com directly anymore ....
so it requires a little file renaming on my part.
I use a .cmd file .... that is why the "Run This First.cmd" file
is included... all it does is rename the .vbs_rename file to .vbs

Just run the Install Theme.vbs and the theme will install and run...

It will also Add the Explorer.exe folder for the Start Orb As Well


Tip:
The Start Menu should Line Up
If It Does Not ... Check Your Customize Start Menu Preferences for Number Of Programs To Display
And Items To Display... They Should Be Set To 10 Respectively

Update Log:
I rechecked the Install Theme.vbs ... and I updated it.
Rechecking And Testing...Is Sometimes Part OF The Upload Process
I am happy with the upload now.