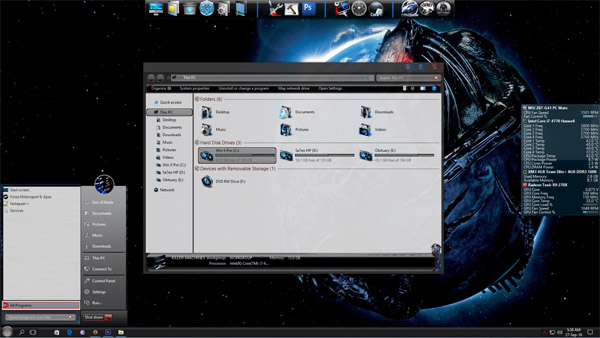 Tag: AVP X Edition RS1


Alien Vs Predator Theme

For Windows 10 RS1 Anniversary Update Builds Only.

Heart Dedicated to $!mZ. Heart

This is a theme I made on her request for both Windows 10 & Windows 7.

Windows 7 version available here:

fav.me/daj50wh

Also, for his Blade base style, thanks to Mr Grim, & Shemhamforash @ Virtual Customs for sharing the Windows 10 Context Menu Tweaker.

HOW TO:

BEFORE YOU START CREATE A SYSTEM RESTORE POINT

You need:

UX Style Patch 0.2.4.2 (Included In The Zip)

Theme Signature Bypass (Included In The Zip)

Install Both.

a.Extract the contents of the theme folder & copy them to:

C:\Windows\Resources\Themes

b.From Personalization select the theme.

You'll also need 'Start Is Back' to apply the start menu style & 'Old New Explorer' for windows explorer to look exactly like it is in the screenshot.