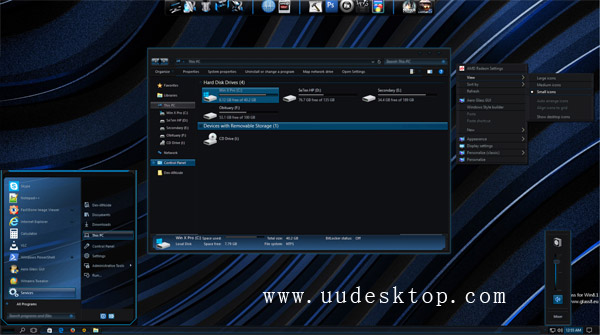 Tag: Windows 10 Themes Blue
Blue Cobalt X-Edition for windows 10 themes



Theme for Windows 10 RS3 & RS2 Builds

How To:

You'll need your system patched with UXThemePatcher.

UltraUXThemePatcher:

www.syssel.net/hoefs/software_…

You'll also need 'StartIsBack' to apply the start menu & taskbar style & 'OldNewExplorer' for windows explorer to look exactly like it is in the screenshot.

StartIsBack:

www.startisback.com/

OldNewExplorer:

www.msfn.org/board/topic/17037…

Installation:

a.Extract the contents of the 'Theme' folder & copy them to:

C:\Windows\Resources\Themes

b.Use the 'Add Personalize Classic' registry file in the zip to add option to desktop right click menu.

c.From right click menu go to:

Personalize(classic) >Theme settings

& select the theme.

Additional:

Check the 'SIB Settings' screenshots included in the zip for theme specific settings in StartIsBack.

Extras:

Blue Cobalt Logon/Lockscreens in 1920x1080 & 2560x1440 resolutions.

Enjoy.