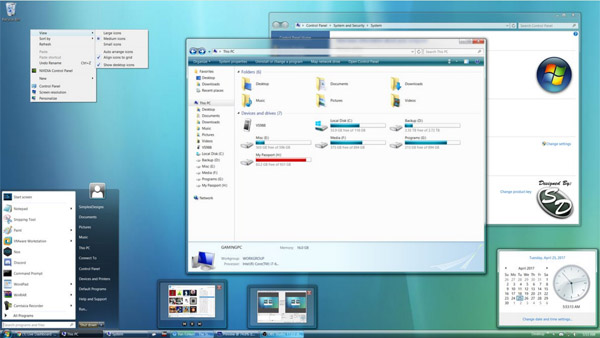 Tag: Aero desktop themes ClearGlass
ClearGlass Aero Vista for win8 desktop themes



ClearGlass Aero Vista for Windows 8.1 Update 1

Welcome to the world of Windows Vista Aero for Windows 8.1 Update 1 but with a clear taskbar and start menu. This theme includes 4 styles to chose from (Round Shiny, Round Clear, Square Round & Square Clear), all include their original Wallpapers, Sound Scheme and Cursors. If you would like the original vista Vs, you can get it here: simplexdesignsart.deviantart.c…

Supported DPI Settings

:bulletblack: 96

:bulletblack: 120

Greed Emote Like my works and want to donate? Donate Via Paypal

Changelog

VERSION 2.0

:bulletblack: Support for 120 DPI

:bulletblack: Lowered Taskband Progressbars Opacity

:bulletblack: Fixed Taskband Group Buttons

:bulletblack: Fixed Taskbar System Tray Button

:bulletblack: Fixed Caption Button Pixels

VERSION 1.0

:bulletblack: Released for Windows 8.1.1.

Installation Guide

Please follow these steps before you continue to install this theme!

Step 1. If your system is not patched, please do so now before you continue.

Download: uxstyle.com/builds/UxStyle_sep…

Troubleshoot: If the theme does not apply properly, you may need to restart the Unsigned theme services in the task manager>services tab or use the batch file included in Required folder (It will need to be ran as admin in order to work).

Copy Theme files to "C:\Windows\Resources\Themes"

Step 2. Aero Glass is a requirement in order to have rounded borders and to remove a fill color behind caption text.

Download: glass8.eu/

Configure Aero Glass: glass8.eu/out/AeroGlassGUI.7z

Info: Theres a Registry file in the Addons folder that will need to be merged into your system to get the windows 7 Glass values.

Step 3. In order to make explorer look how it is in the theme preview, you will need to install this application. If you choose not to, the theme will not look proper.

Options: Make sure these are the only options selected in the program before you click install! "Use command bar instead of Ribbon", "Show details pane on the bottom".

Download: www.msfn.org/board/topic/17037…

Step 4.(Optional) This is not a really needed feature, but if you want the start menu and have it skinned properly, please install startisback.

Copy the folders inside SIB to:

C:\Users\YourUserNameHere\AppData\Local\StartIsBack

Info: Once installed, you can then apply the Styles to SIB Program.

Download: startisback.com/

Step 5. If all has been setup, the theme should apply correctly.

Ps... Dont forget to restart Windows for changes to take full effect!!!!